The best thing he did was to hand over recruitment for this government-maunfactured supergroup to his girlfriend Allie Marlowe, Brighton-based club-creatrix, fixer and Indie-music socialite (did someone say, star-fucker? wash your mouth!) Leading light of the group, in Javert's eyes, was Saul Burnet, aka Pig Liver, of Pig Liver and the Organs, he of the crashingly dull metal music, screamingly gross videos, and massive "rebellious" fanbase of slavish little consumeroids with delusions of hardness. To the discerning eye, the presence of Ax Preston, the Chosen Few's god-emperor and virtuoso guitar-man, on the board, made it clear that no one else could be in charge. The Taunton based Preston-family band did not follow big brother into the maw of the suits' bandwagon, and rumours of a final split, fueled by the recent shift in romantic allegiance of drummer Milly Kettle from brainy muso Ax to simple songster Jordan, gathered apace (they continue to gather to this day).

However, the immediate result of Chairman Ax's anomalous career move was to give a huge boost to the sales of Dirigiste, as countless punters realised that the Chosen's dense, intense and committed second album was not merely theme music for the politically insane, or an austere visit to guitar-afficionado-heaven, but also a stomping, fierce-paced seamlessly inventive collection of very good tunes.

Ms Marlowe's boldest move was recruiting Ax's old enemy Sage Pender, known to us all as Aoxomoxoa, of the eponymous Aoxomoxoa and the Heads. Sage tends to regard himself as the biggest rockstar England has ever produced, and at a musclebound 6' 6" in his skull-mask, he has some excuse: but the mega-commercial techno wizard, whose stage act resembles a circus performance, had never been known for his radical political leanings. But shovel away the blood and guts and brain-burning special effects from Bleeding Heart and Arbeit Macht Frei, and you will find a dark, bleakly intelligent worldview, that must at all costs be concealed from the laddish hordes of the Heads' sell-out world-wide gigs.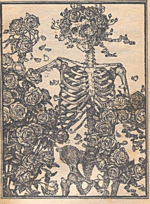 After Tone, their modestly successful but massively influential debut, the Chosen took years to come up with another collection, prefering to publish track by track: the Heads meanwhile pumping out Morpho, Stonefish, Africa Live (Mba Kyere),and Arbeit Macht Frei. But the two bands had been around. The same cannot be said for Fiorinda Slater, the incandescent teenager who joined erratic Teesside dyke-rockers DARK at the age of fourteen, straight off the streets. Her stunning performances and substance-abusive offstage style on the Hard Fun Tour had already endeared her to Aoxomoxoa, but ironically it was as the pretty-girl-interest in a government super-group that Fiorinda first came to the public's attention. While her stormy relationship with Charm Dudley, DARK's frontwoman, threatened to tear the brilliant but volatile northeasterners apart, she took refuge in the media exposure of the Think Tank, but her unforgettable Mood Indigo set at Reading's chaotic Festival of Dissolution gave Charm clear warning that she'd better come to terms.

The career of the CounterCultural Think Tank (they never did get a better name) ended on Massacre Night, in blood and gunsmoke of a more literal variety than usual in the history of band-bustups. Those who survived coalesced into a new form, to face a new world, and the rest, as they say, is history...

Allie Marlowe wrote this!