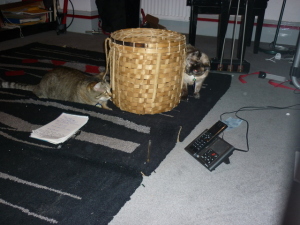 Friday 1st February. Chilly, and it's raining again. My cats, aged twelve and seven this year, have made this the winter of becoming indoor pets. Ginger, my older cat, has long been of the opinion that cold weather, snow and rain are for the birds, which I applaud because I like the birds, but now Milo, junior cat, has joined her in this unilateral decision. Even cats can't sleep all the time, so they tear around the house beating each other up, or else (Ginger), climb up the back of my chair, claw my shoulders, try to climb onto my head and lick my hair as I type; (Milo) they leap. He can leap quite high, and he lands quite hard, he isn't a small cat. He killed my last monitor.
Anyway, it's wet play again today, and so far I have: mended the birdfeeder that got blown down from the elm tree and restored it (via stepladder and new twine) to its branch; done some housework including a little wood-chopping in the rain; practiced piano, liking my Hadyn very much, getting frustrated with the Bach Prelude; done my greek homework; discovered that Amazon Kindle has developed a new wrinkle: in their "new sales territories" (doesn't that sound imperial!) Brazil, Japan and India, you can only get 35 percent Royalties tops, whether you have a US Tax ID or not;
unless
you make your books exclusive to Kindle by enrolling in KDP Select. I will hold up my hand and confess I don't get KDP Select. Maybe if I was an Indie writer I'd know. There's a huge "global fund" they're always talking about, but none of it has ever come my way or likely too... It's good for the free days, that's the only use I've found for it.
And cast a cold eye on the BBC News Headlines: In The Gambia Friday is to join the weekend club, is this the shape of things to come? Good idea, on the face of it. Four day week makes sense economically, and makes sense of the actual situation; until of course the Jedi Knights become huge, and declare that their Sabbath is a Tuesday... And today is Hejabi Day, when non-Muslim women are encouraged to take the veil. "My beauty" says (I nearly wrote
simpers
, but I controlled myself) the non-Muslim young lady allowing her photo to be displayed to the world "Is for my family and my partner, that's what the hejab is saying". For God's sake, kid,
listen
to yourself*, and you need a burqa, anyway, if that's the way you feel. Will I adopt the hejab? I covered my head in Morocco only 2 years ago, so for politeness abroad; yes. In the UK,
never
. I am not a woman, I am a citizen and a human being. My hair, chin and the back of my neck are as decent as anybody else's. Would I refuse under torture, or to save my son's life, say?
I'll think about it
... Do I understand the appeal of this gesture? Certainly I do. There's a war on. The things one keeps hearing! Appeasement is tempting.
The light has changed, the blue tits and the goldfinches already seem to be courting (ie scrapping and scampering over the scaffolding that has taken root at the back of our house; and flirting their wings at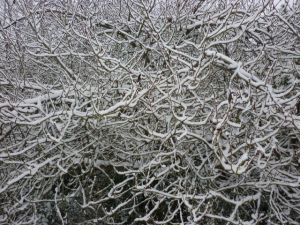 each other). And tomorrow it will be bright sunshine. Or heavy snow. Could go either way, apparently, according to our oracles. What does sun AND snow on Candlemas mean?
So, finally, I return to Old Venus.
*a comparison has been censored for being in poor taste. It involved yellow stars as a tasteful addition to outer clothing.