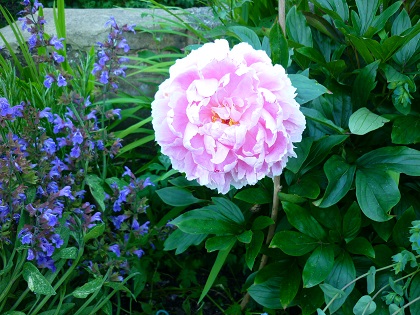 Monday 9th June, quiet, cool and overcast. Have torn down the rocket that had shot into flower, and am hoping to get away with having stirred some of the admittedly slightly embittered leaves into tonight's salad. Have not transferred my third indoor froglet to the outdoors, but I must. Yesterday, back to Wisborough on a perfect English summer day, to repeat a walk we remember with fondness from before fracking reared its head. The sky so blue and white it glowed, the sun as warm as it ought to be, and no more; the hollow thwack of leather on willow pursued us as we left the Green. Open Gardens. Teas. Birdsong everywhere, there must be a blackbird pair for every square metre of this landscape, this summer (but never a cuckoo, and very few swallows, martins or swifts). Dragonflies, damselflies (damselflies are hammerheaded, that's the essential difference); yellow water lilies, pink and white dog roses, creamy lace elderflower platters, herons starting up from the Adur canal, or from the reeds by the Adur river next door. We lost our way, when avoiding a field where a bull had been put with the cows; also there were fields and fields where vast thickets of nettles pressed on either side: so it was okay, authentic, all the trimmings, but I was glad to reach The Mens. Very glad to have seen those great beeches, one more time, in all their shadowy glory. And always, except in the beech woods, the slim grey spire of
St Peter ad Vincula
on its headland (thirteenth century wall paintings, a mysterious void under the sanctuary) inexplicably shifting round our horizon: very Proustian.
And I'm thinking, as we walk through the beanfields in flower on our way back, about the people, the comment-column mavs, even
anti-fracking activists
, vengefully delighted to think of the Low Weald getting trashed, just because places like Wisborough are so picturebook. Huh? I can't get along with that sort of attitude. Really can't. Neither class war, or a few trollish comments, are going to make it any easier for me to accept the trashing of the
Forest of Bowland.
St Peter's ad Vincula
is the church featured in the T.S Eliot-inspired story,
The Flame Is Roses The Smoke Is Briars
I wrote for an MIT venture into sf, a couple of years ago. Although nowhere near the sea.
Footnote To Roumeli

My library books #n: Of course not starring Philip the object of our quest last year, but still unable to resist an archaeological thriller called
The Tomb of Alexander
, the star of Macedon on the cover, and written by Ernest Hemingway's grandson, who happens to be a curator at The Metropolitan Museum Of Art. It's nice. Not going to set the Thames on fire, and you have to really like archaeology, but that's beside the point. Turns out the plot is full of The Mummy Returns stuff about a secret book; a lost tomb full of untold treasures, amazing mediaeval prophecies and a battle at the End of the World. Couldn't resist looking it up, and what d'you know, it's all true as the internet. So now I must at all costs seek out a copy of
The Alexander Romance.
, but obviously digital won't do. Maybe I'll have to put it on
my Christmas List
But the strangest part is that I remember this story. I remember, when I was a very small child, five or six, that I was convinced someone, one of the holy nuns at my school, had told me about a last battle, in which a human hero, a champion of God, would fight with the devil and all his demons, at a pass at the end of the world, and it would be the end of time . . . I repeated this story at home, got soundly told off for making up disrespectful nonsense & have spent all my years between puzzling over the mystery, because I know I
didn't
make it up.
Well, well, I'll keep you updated.
Still have not caught my froglet, although with the best intentions. It's hard to reason with a tadpole, even at the four-legged stage.