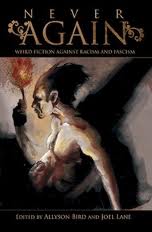 Friday 17th June, a dark and stormy morning.
Here's one of those links I should have added earlier this week: the
Never Again anthology,
published by Grey Friar press, edited by Allyson Bird and Joel Lane. A stellar collection, a passionate statement from the writers of the weird. The storynotes posted by
simon marshall jones
are well worth looking at.
Anyway, if you are in Brighton and can make it to the
Amnesty Bookshop on Sydney Street
7.00pm to 8.30pm tomorrow evening, you will be rewarded with readings by Tony Richards and Roseanne Rabinowitz (but not, unfortunately, Lisa Tuttle, who can't make it).
Lauren re-joined the wild, yesterday evening, and that makes five. There'll be a pause now. Lauren's been by far the most forward of the Next Generation of hiphops (the first being the Liszt Concert Six, as you'll remember). None of her brothers and sisters even has back legs yet.
Rain, wonderful rain. Suddenly the garden is flowery again, first time since April really. And my tuberoses have finally deigned to make an appearence, so I should be happy but why can't we have any flashy bits. Flashy bits all over the weather map last night, what did Brighton do wrong? It's so unfair.