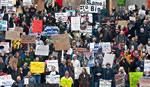 Tuesday 11th October, mild air, grey low sky, a thin, dropping rain. Frog action and birdsong.
.... but I'm not a pessimist. I'm just not
that
stupid.
http://www.theatlantic.com/infocus/2011/10/occupy-wall-street-spreads-beyond-nyc/100165/?source=patrick.net
link is from a trusted source, ie Darko Suvin
Also in the news,
Avaaz
, clearing house for positive negative thinking, announcing today they've hit 10 million members. Are they actually achieving anything? I think It's worth a shot.

http://www.scribd.com/fullscreen/60655424?access_key=key-28a1rqbwd0myb11f6i2a