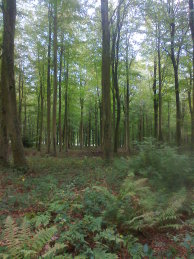 Friday 20th January, grey morning, but more light in the sky and currently it is not raining. The native daffodils have put on a growth spurt, all of an inch and a half high today, but they're in a very cool shady corner. Shop-daffodils are strapping adolescents, some already showing their flower buds, but I think no fair maids of February this year, despite the green winter. Dampness prevails, but the state of Ardingly reservoir is a benchmark. We need
a lot
of rain, unnatural amounts of rain, to get us back to what the health profession would call this patient's baseline There are just too many people living in Sussex now, and too much very thirsty agriculture. Ironically, unnatural amounts is what we're most likely to get, so here's sort-of hoping.
And so, goodbye
Occupy St Paul's
. Or at least, a loss of mandate for the campers. Me, I support the idea wholeheartedly, I want the revolt against Toxic Capitalism Run By Self-Confessed Psychopaths to be visible; even if I don't actually believe in capitalism anyway. Hey. Look! Occupy is
working
. It's working on David Cameron, Ed Milliband, and what's that other fellow? I know what these anarchic festivals of revolution look like close up (that's not Anarchist, btw); I know what they become. Haight-Ashbury wasn't all flowers and gentle, mind-opening highs, you know. But a shambolic, messy Occupy, or the LSX bonus-culture? Even the people of England,
en masse
, know there is no contest.
I don't believe in moral capitalism. But on the other hand, when
Mr Ecover
came on the tv yesterday, to explain this strange idea Dave had come up with, to the people at the BBC, I was immediately filled with a desire to go and clean a floor. That floor-cleaner of theirs smells so great, and its such a nice colour too. There's no point, says Mr Man, in making a good, righteous product nobody wants...But he doesn't, they don't. Consumers don't love the word Organic, they don't continue to favour ethically traded goods even in hard times, to punish themselves. The stuff is good, it's nice to buy good stuff, it feels good. We want more.
Still don't believe in it.
Paper Modelling vs Zelda
(post-Christmas angst bulletin)
I
have not
given up on my duck-flying-an-aeroplane. That's just not true.
I'm getting back to it, as soon as I've finished this Water Temple.
The keynote image is Angmering beeches in Maytime. Trees will be the default feature, this year. I'm tired of my office photo