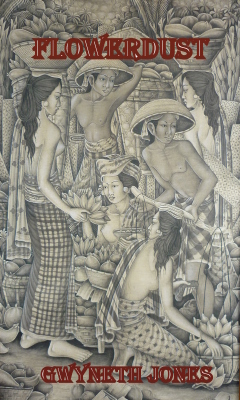 Monday 5th November, bright and chilly, pale blue sky; washes of high cloud. This morning I saw a robin on the little plum tree (rare occurence, ground feeding birds are infrequent visitors here), definitely eying up the domed feeder.There's a lot more visible bird action in the gardens that this time last year; robins, blackbirds, bluetits, hedgesparrow, and a little group* of long-tailed tits, passing through. Only window-shopping today, but maybe I'll have customers. We have said goodbye to the sash window renovators (until they come back to do the front of the house argh). We have put things back together, including replacing my curtain rail that I broke, and apart from the damaged paintwork around the landing window. Possibly Purple Sage is now Heather Bloom? So that was all fine, until on one of those nights of torrential rain last week, I woke about four in the morning, and was forced to conclude: yes, that persistent dripping sound is coming from
inside
the room. Roofers will be along later in the week.
And I have published the original
Divine Endurance
,
Flowerdust
and the special new
"Flowerdust" edition of Divine Endurance
on Kindle. Finally! I thought I would have that job dusted by the end of July. I've been meaning to do something about the disjoints between Flowerdust and Divine Endurance for years and years. Now it's done, plus the books have the cover image I wanted for them long, long, ago, and if you're out there, unknown artist, please get in touch. I've even called
the

My picture seems closely related to this famous one, but I don't think it's by Gede Sobrat
mini-series of two "The Last Days Of Ranganar", the name I always fancied. I've included the 1987 story "The Eastern Succession", where Endang of Timur first appears, with
Flowerdust
, in which he's a major character, and my 1998 Olso GOH speech about encountering the perfect machine "About A Girl", with
Divine Endurance
I wish I could have used the
Danielle de Santiago "gynoid" interview
, but I'm not in touch with Danielle, sadly.
I wasn't bothered by discrepancies, when I published
Flowerdust
, back in 1993/1994. I'd always wanted to write an informal "Divine Endurance" story, with my characters in their street clothes (
Divine Endurance
became as stylised and formal as the
Ramayana Ballet
during my long and fascinating apprenticeship with Rayner Unwin, who wanted me to write more like Tolkien; it didn't start off that way). And then Caroline Oakley, at Headline as she was then, gave me the opportunity. So I picked up Endang of Timur, the angry young man, sexual and political dissident, and tossed him into the mix of my Divine Endurance characters, like a cat among the pigeons.
Fitting the two stories together, I didn't change much really, but of course I found my past, the years when I lived in Singapore. Rural Java, with its temples, terraced mountains, palace cities, where we were poor travellers, and people were kind. The dance school at Solo, where I saw Endang dance; Sumatra when it was still forest; gaspipes by the road had purple crowns of flame, towns were the Wild West. Bali, beautiful Ubud. Trekking in Thailand (aka Gamartha). And not to mention the much more knowing, grittier, blingier (even then) culture of the real Peninsula, across the Causeway. Penang, where we arrived one night, Easter 1978, to find the whole staff of the Golden Sands hotel in fits of laughter, pretending they were scaring away the dragon that was eating the moon (you show it its reflection, in a bucket of water). Our fears, our intense concerns, when ASEAN was the real world to us, and the UK a tiny grey blur, far, far away. The Boat People, Transmigrasi. The Jakarta Reigme; no change there, alas. The warm-milk air of tropical darkness. I haven't been back to Java since 1985. I'm never going to see those places again, mostly they aren't even there anymore, but I still have them, captured in word-amber.
Pure self indulgence (and copyright protection), but I've enrolled them in KDP Select, so you can borrow any or all of the three for free, if you have a ticket to the Kindle Lending Library. There will also be free download days, which I will advertise.


What about free books on my website? No. Never again. I'm sick of pirates.
*Not a
flock
. We don't get flocks of little birds anymore, much, do we?