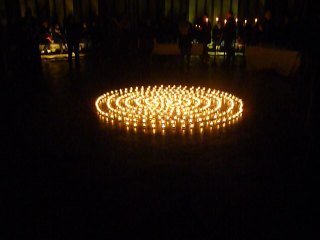 Tuesday 5th November, rainy morning, raw grey afternoon. Today I've felt cold in the house first time this season, despite warm jumper and a shawl. But it's not time to start using the central heating. Not while outdoor temperatures are still struggling to get below 15 degrees. Not green, however, but gold november and gold hallow'een in York, from the showers of orange gold and yellow gold leaves that rushed around, covering the walk by the Ouse as we strode up and down. Which looks likely to be drowned deep a couple of times at least: this is going to be one of those mild and wet, wet, wet global warming winters, on the signs so far. It rained on us a lot; not a problem, as it led to spending a v pleasant session on Friday afternoon in the Guido Fawkes, pub where Guy Fawkes was born, 1570 (perhaps building was not a pub at the time), watching the wet world go by
York, ah, one of the Lonely Planet three top global destinations! I don't know how that came about, it seems bizarre to me, even though of course this country is a first class treasure, but it's certainly a fine place to visit for the feast of the dead and the death of the old year, the old town all
en
dark and scary (if you're afraid of chocolate pumpkins)
fete
, the costumed ghost walk touts prowling, and then for All Saints, a magical Open Night in the Minster, where we joined the throng lining up to add candles to the spiral of lights in the Chapter House. We stayed there for a long time, in one of the stone mediaeval bays under the weird carvings, and I suppose I should have been thinking of my dead, of whom there are getting to be quite a few, but I didn't, just sat and gazed at the lights in the darkness, the faces, wishing it would never end.
Anyway, go to York next Hallow'een, and you won't be disappointed. Not if you book early, that is.
Watching
Last week I sentenced myself to an Alice week, meaning I had to watch all the movies I believed I was dying to see, and had recorded off the tv guide, or else chuck them:
Alamar
I watched this one, but I didn't really like it. Fiction filmed in documentary style, in this case turned out to mean the drama is as opaque as if you were watching strangers & never finding out what's really going on. Set on the world heritage
Banco Chinchorro
coral reef, but the reef is only an extra, all anyone did about it was catch fish to eat and lobsters to chop the tails off and sell. The little boy was okay, and so was Blanquita the cattle egret, but I got to quite dislike the pretty-looking free spirit daddy.
Bamako
is the capital of Mali. This is a brilliant movie, about Africa putting the post-colonial exploiters on trial. Seek it out. The music is excellent too. The bad thing about watching it was knowing what has happened to this city and to Mali, since 2006.
Mahanagar
The Big City. Set in Calcutta, in the fifties. Not the best Satyajit Ray movie I've seen, but pretty good, beautiful to look at and Madhabi Mukherjee is just amazing. The hopes and dreams of India, of a man and a woman, walking off into the utterly daunting future, proud to be paying the price of their decent ideals: heads high and side by side. Heartbreaking final shot.
A Separation
One of the best movies I've seen in a long time. Compelling naturalistic direction, compelling, low-key devastating story. The husbands don't come out of it too well, unfortunately, but there are no villains. If you are like me and kept meaning to go and see this and lazily never made it, seek it out now.
Basketcase
Deleted unseen. It's no fun watching horror movies on my own, and Peter does not like them. Also, it's Hallow'een and I have captured a new collection.
Night Of The Living Dead
recorded for old times sake. Deleted unseen; see above.

The keynote photo is of course the spiral of lights for the dead, in the Chapter House. The thumbnail next to this is
Piano In The Rain
, my favourite Dana Schulz, who's having an exhibition at the
Hepworth Gallery
, Wakefield at the moment. Nothing like the Turner at Margate, this is not wishful thinking it's a really great gallery, with of course plenty of
Barbara Hepworth
. I loved her sculpture galleries; and Henry Moore, but also (currently) Dana Schultz and Tissot, my top jigsaw man. In the Calder (a big cavernous brick shed they use for installations), we watched, or witnessed, a new
Roger Hiorns
installation (no name, far as I can tell) about a naked youth, and fire, and various oddly assorted objects. Many people didn't stick it out (awful cold in that shed) but I thought it was good, beautiful and engrossing, if not quite as stunning as the spiral, and then enlivened by Peter's having spotted a baby squirrel that had got itself stranded on a windowledge, far above the raging Calder river... The rescue operation intensified the experience no end.
We left while this impromptu work was still in progress, but to all who took part, it was great, and I hope the squirrel came out of it okay.
Rhubarb? I think it isn't the season.
Happy New Year!