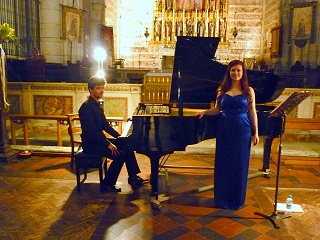 Monday 2nd June, official summer weather for official Summer: blue sky and cloud, sunny actually warm outdoors (still don't know how that was the third warmest Spring on record, however). Congratulations to Gabriel and Marianne, who made their comeback in fine style at St Michael & All Angels in the Brighton Festival Fringe programme on Saturday. After the misery of months of serious illness (cancerous bowel polyps, thankfully successfully treated by surgery in the end); horribly compounded by the failings of the NHS hospital most concerned, so glad and happy to see Marianne on form again, and singing beautifully. They now embark on a big season of engagements, with confidence.
"What do you think of creative writing groups?' was the question.
"Playground for bullies," was my instant response. "If there's a dominant unscrupulous person in the room, and there probably is, given the territory, she or he will take over, cow those who can be cowed, crush opposition and what's worse, make it a crime to have an original voice. You need an organisation you can trust, like Arvon in the UK, an experienced, practitioner, non-bully workshop leader, and the leader needs to be properly in charge, which definitely isn't always the case. Otherwise, avoid like the plague! If you can't give up the habit don't ever pay, and if you don't like what happens quit immediately!"
Turned out we were at cross-purposes, Mary-Elly was talking about Creative Writing as a degree course prospect, for the daughter of a friend. Oh, well that's different. A good Creative Writing course, the way it's taught today, just as good as say, English Literature in the old days, as an all-purpose undergraduate choice. You don't have to be a prospective academic to benefit from Eng.Litt; don't have to be a prospective novelist to benefit from studying Creative Writing. All kinds of useful mind-nurturing stuff and practical skills in there, applicable in all kinds of contexts.
Not so sure about the post-grad phenomenon. I might go "university of life is better for you" on that one.
But then a mailing from Clarion turned up (I wish I could stop them wasting the postage, I have email!) & that night I dreamt, a long and rich and complicated dream, about a band of sisters and brothers, setting out for . . . and having . . . many dangerous adventures, but all that remained for me, a couple of moments after waking, was
Tashkent
.
Going to Tashkent, with snow on our boots.
My response to what I thought was Mary-Elly's original question was based on my response to the fairly recent (I'm a slow burner) airing of views on "Creative Writing" as a social activity in the press, and on anecdotal reports from writer friends who'd fallen for a paid "course" that turned out both rubbish and distressing. But as so often, you bounce out a crowd-sourced response, and then memory kicks in . . . I now admit tried the UK "Milford", ie a residential group for and by sf practitioners; I went back for a second bite so it can't have been that bad, though I wasn't tempted to carry on. I'm not group material, me. Too much of an outlier, plus privately & recalcitrantly convinced proper writers
ought to be
"outliers". But I once co-led an Arvon week in Devon, and that was okay, except Colin Greenland had much more exciting accommodation than me, ah well. I did a week's stint as a Clarion workshop leader, twice, hopefully in charge at least part of the time; hopefully not too much of a bully. 1999 Clarion West in Seattle, the year they had Octavia Butler as a tutor was my first. Accepting the job on grounds of "Free views of Mount Rainier included" (absolutely true), I met a classic, a
legendary
group, the one including Andrea Hairston, Sheree Thomas, Margo Lanagan, Trent Walters, Joe Sutliff Sanders etc. It was intense. There was trouble! I would never sign up for the 6 weeks marathon as a student,
never
. Vicariously it was thrilling, I shared a small part of the excitement, the gruelling, addictive writers'-bunker mentality, the wild-eyed gallows humour; all of it.
Do it once, that's my non-crowd-sourced advice. Dive into the concentrated company of fellow writers, and discover that your weirdest, most secret behaviours are shared with them. Don't become an addict. You'll lose all power to judge your own writing, you'll fall victim to groupspeak. And remember the old adage, writing workshops are good for novelists, bad for short story writers. (Reason being, novels don't get the full treatment, they are too big to fit in the room. The short story that gets taken to pieces in its entirety is much less likely to survive the process with its outlier credentials intact. You will revise it to make it more like what everybody else did . . .) But have a go. Adventure, bizarre comradeship, peril, cold feet. What more could you ask?
Meanwhile, why not sign up for the Clarion Writathon?

http://clarionwriteathon.org/members/login-register-form.php?registeras=writer
Objection! Objection!
For UK readers only: there's still time to object to Celtique Energie's application to drill beside Wisborough Green, in the Weald, an area now
certified to harbour reserves of around 2mths UK supply
of "tight oil" that can only be extracted by the controversial method known as "fracking". If you don't like the idea of fracking in sussex, or anywhere in the UK, why not object? And while you're at it, why not copy your letter to David Cameron, your own MP, and
Nick Herbert, MP
for Arundel and the South Downs. Just to be annoying nb. I was at the last planning committee meeting. They bin all objections to extreme energy extraction. But they get cross first. You have until 20th June. The planning meeting is currently scheduled for 24th.
http://www.no-drilling.co.uk/how-to-object.html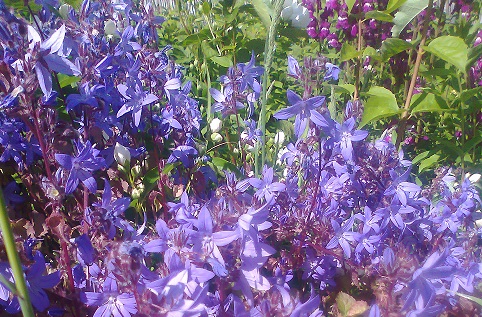 You probably can't make them out, either that or they all flew away, but this is supposed to be our wall campanula, my June flower of choice, full of honeybees.