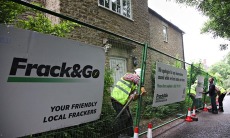 Wednesday 11th of June, warm and overcast. WSCC are holding an open day all about oil and gas exploration and extraction, at Pulborough Village Hall on 21st June, where they'll answer all our questions and explain about how to influence planning policy. What an interesting idea! It's a drop-in, but you have to register by email: oilandgas@westsussex.gov.uk
Here's the full details:
Public Event about Oil and Gas Exploration and Extraction
In response to demand for more information about oil and gas exploration and extraction, West Sussex County Council have organised a free drop-in session on Saturday 21 June at Pulborough Village Hall. The event runs from 9.30am to 4.00pm.
You will be able to find out about the processes involved and our role as the local planning authority in determining applications. However, WSCC will not be able to have site-specific discussions on current planning applications.
Officers from the Environment Agency, Health and Safety Executive, Department for Energy and Climate Change, and the County Council will attend the event. Representatives from local resident groups affected by oil and gas extraction will also be in attendance.
John Pucknall from Portsmouth University will be deliverying the Science and Techonology information session. As a Petroleum engineer for 30 years with BP, he has a unique insight to the methods used by companies to extract oil and gas.
More information about the venue, including travel directions, can be found on the website:
http://www.pulbvh.org.uk/index.htm

There is a small public car park next to the hall (please note there is no parking available at the hall) and a train station within walking distance.
You can drop in at any time to get information or ask questions. However, due to limited capacity at the village hall, please confirm your attendance in advance by email to oilandgas@westsussex.gov.uk.