Friday 7th May, cloudy skies clearing to blue, a little late sunshine. Fairly cool.
Greetings from a small green dot in the midst of a sea of blue. . .
(my email heading for the day) I spent yesterday travelling up to Manchester and back, voting on the way to the station of course, and this felt a little strange, because twice in the Bold As Love series there's a crucial parliamentary vote, and both times, the perspective is given by one of the characters travelling, on trains, on the London Underground, and it's Springtime both times, too. Well, it would be, wouldn't it. I don't know if I looked at people and wondered how they'd vote, however: I had other things on my mind. Got back fairly late, stayed up until half past one, but then ran out of steam & went to bed, thinking on all those media people, the media-faces of the UK, and I don't usually really like any of them, but what fun they were having, staying up all night, all excited & I blessed them unaware, like the Ancient Mariner, for no reason except I liked to see them having fun. . .
Still feeling strange. I like coalition government, I think it is the future, and the fact that politicians do not like the idea is a very good reason to suspect it's a good thing. But here we are about to be ruled by not one but
two
fresh-faced Public Schoolboys, oh goodie, & not that I'm any sort of fan of Gordon Brown,
not at all
, but was it for this that my mother worked her little socks off in that long ago campaign in 1945? & yet Tim Farron got through, with a very handy-sized swing too, Caroline Lucas got the first Green seat, so we're sorted, me & mine (can't count Streatham, since the incumbents there are in Sao Paulo). and Gabriel rang me up to tell me he voted, first time (he's one of those bright-eyed hordes) & he had worked at it and taken an online questionaire (sp?) which showed the Party opinions with the labels torn off. and it turns out he is Green! (what a surprise, you may say).
Enough of this frivolity. I have legs! As of today, I have two froglets with four legs apiece.
Now that is definitely something to celebrate.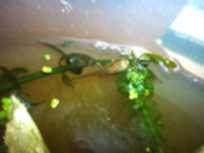 And here it is.
PS, the swifts are here.