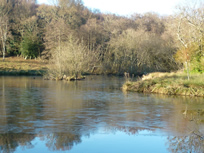 Friday 25th February, morning mist, mild temperatures, three skinny frogs in the bigger pool: first sighting. A mating pair and a spare male. I hope there will be more.
Watching: Mizoguchi's
Ugetsu Monogatari
, a Japanese ghost story, one of my happier Lovefilm arthouse choices. "The feeling of wartime must be apparent in the attitude of every character,"
it says here
, quoting the director. "The violence of war unleashed by those in power on a pretext of the national good must overwhelm the common people with suffering—moral and physical.". I don't know why these Japanese movies have such an intense appeal, or even why they are so revered by movie buffs. But knowing nothing, I'm drawn in.
And the BBC live updates from Libya, the rest of North Africa, the Middle East.
Reading (my library books)
Jonathan Rabb's Rosa
, a richly novelistic thriller woven around the death of Rosa Luxembourg. Also pretty good. Hello! I see it's a trilogy. Am I sorry about that, or pleased there'll be more?
Today it's earliest spring. The insistent see-saw see-saw see-saw of the great tits cuts through the mist, gathering again as the afternoon draws in. The murky damp weather persists, seems to have been hanging around forever, but I have a feeling winter conditions are not going to return, not down here