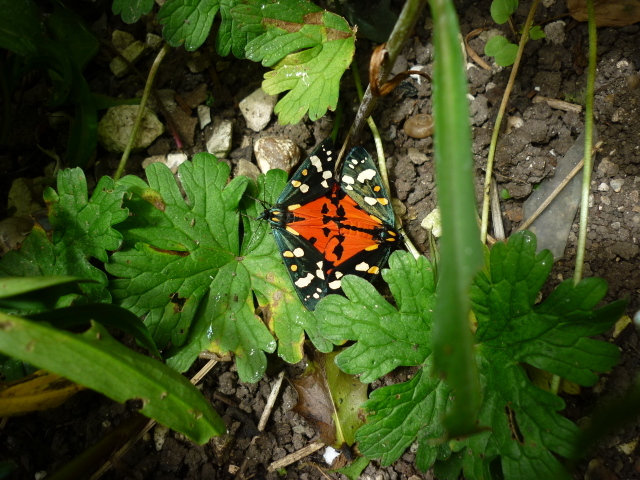 Wednesday 10th July, midmorning, shrilling swifts right over my head in the garden, brilliant flowers, blue skies and warm sun. The cats are sulking, but they'll be okay. The tadpole tub has been emptied, the kindergarten by the wildlife pool (with access to the adult world for amphibians) has been stocked with back-legs, the four-leg froglets released to brave the miniature pikes (sticklebacks), but not the goldfish. Gabriel is back in England, after his epic bike ride across La Belle France to the World Wide festival at Sete, and
by the way
, the story that the French are sunk in gloom is a story. Such adventures, such music and drinking and dancing, and then yesterday the tale of the good holiday that nearly went bad. But mid-Tour, how could the French railway guards refuse the pleas of a sweat-dripping francophile young cyclist, just caned it to Montpellier, desperate to take his Specialised on their
no bikes
! train to Lille. They could not, bless them. And that's the end of 2012-2013 for me, tho' I'll be back in mid August for an intercalendary pause, and about time too says my left hand, v. keen for a break from incessant typing.
& Among all the end of the world is nigh issues I could gripe about, a tribute and my best wishes to
Husam Helmi
, spokesperson for the Syrian Non-Violence Movement, co-founder of
Enab Baladi
, the newspaper of the Non-Violence Movement. I talked to him and heard him speak, and he has convinced me that There Is a Non-Violence Movement, that started operations against the Assad regime 2003, years before this suspect "Arab Spring" thing was founded on that Slap. Enab Baladi means white grapes, it's what his home town was famous for, their wonderful dessert grapes. Before they became famous for being massacred. Do not dismiss Syria. Or Eygpt. Just don't arm the rebels, the Islamists, or anyone else.
Anyway, so long: off to join the circus again.
The keynote picture is a pair of scarlet tigers, scarce in some places apparently but not in our gardens at this time of year. These moths are famous for their "tameness". They really have no fear. They think they've taken care of that angle with the Red For Danger costume, and they'll climb onto your finger to be admired. Not dangerous to us, their beauty works just as well.