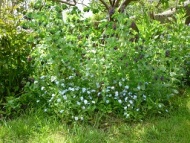 Tuesday 26th May, drizzly and cool. The brood of great tits, newly reared, very charming making forays from the cypress to our little elm, they're feeding themselves now, from our feeder and Nick and Val's. Floods for East Anglia all the rest of this week, which Grauniad reader pounce upon as a Biblical punishment for Farage voters. I doubt that, but I bet I'm right about predicting we are heading for a long wet summer, just like 2007. But the garden doesn't seem to care, and neither to the birds. Yesterday I was here all day (lucky break), working at my desk, and all day long, through windows open a few inches in defiance of the rain, the blackbirds kept singing, wonderfully, echoing off each other, from chimneypots, rooftops, treetops, indefatigable. & this morning, over the the wet garden, talking to Gabriel about his plans for the rest of term, I watched the swifts darting and playing, in and out of the rainclouds.
If I'm being picky, the gentry scenes in
Much Ado About Nothing
in St Nicholas Gardens shouldn't have been played for such broad comedy. If the toffs start acting like buffoons, it's really not fair on Dogberry & Co. Leaves them nowhere to go. And, plus, to do justice to the play, there has to be an edge to this battle of the sexes, a sense that this Italy, this world, is a savage place to be a woman. (Just ask yourself, why does Hero forgive Claudio?
Because she has to
She's tainted, nobody's going to marry her if he doesn't).
But all the same, it was
magic
.
A moratorium has been declared on all tv news media, from
Have I Got News For You
, through
Newsnight
, to
South East Today
, to punish them for their huge contribution to Farage's success, and by the way, their consistently sickening coverage of Climate Change. Doesn't hurt a bit so far, in fact I feel more cheerful than for some time. I may have to go back to relying on Al Jazeera in the longer term.