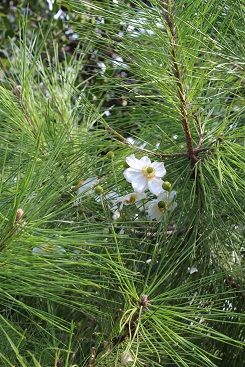 Sunday 26th October, grey skies, goodbye Summertime, the garden put to bed, foxgloves and meadow flowers sown for the spring, the holly tree has fifteen or so redding berries (why so few survivors, must try to find out what I'm doing wrong). Sad beautiful discovery, a silvery, prickly dead stickleback floating in the cup of a red maple leaf. I hope the others are okay. We rarely see them esp not at this season. Autumn has just begun, and should be nearly over . . . Must try to make it out onto the downs or to the woods again soon. Went up to see
Electra at the Old Vic
last night, excited by passionate reviews, and found the show disappointing. Kristin Scott-Thomas does a good shrieking, stubborn, ageing adolescent, "absolute in grief", but she seemed stripped of gravitas, and the play stripped of tension. Maybe I prefer my Ancient Drama either rewritten, or left as is, not just vaguely tweaked about. Or maybe it was just an off night. Ah, well,
caveat emptor
. Diana Quick as Clytemnestra took the best part, in my opinion.The best of the evening was walking along the Southbank, watching the crowds mill and drift, taking the uncannily lukewarm October night air. I don't have any use for the London Eye myself, but it does look eerily pretty, inching around up there in the dark.
My Fracking Round Up
Predictably, the West Sussex County Council debate on whether to
declare themselves a frack free zone
, which I did not attend, was a damp squib. How could they take on Cuadrilla? Already ensconced at Balcombe? Just not going to happen. Apparently they have resolved, almost as if this wasn't supposed to be their statutory position, to consider each application on its merits . . .
Predictably,
Celtique Energie are contesting the WSCC planning committee's July 22nd decision
to refuse their application to drill at Wisborough Green, and we'll have to wait and see on that one.
Predictably, not only is the change in the trespass law going through, but
with enthusiastic additons from Baroness Kramer
the Lib-Dem peer with the good fracking connections.
Predictably,
Nature
magazine has discovered that
fracking won't help the climate change problem . . .
I'm tired of that word. Can't remember when I last saw the qualification used in a positive sense. Yet I still have a feeling we could win this battle, one NO THANKS AND HERE'S WHY at a time, and maybe even more than locally. But the war? No, nothing like. We lose the war, and the next generations live with the consequences.

https://news.vice.com/article/the-end-of-fracking-is-closer-than-you-think
http://rt.com/business/198880-bp-gdf-northsea-oil/
Reading
(My library books)
The Abomination,
Jonathan Holt. Venice, police procedural with two strong female leads; the political dimension of a stunningly corrupt state, and the evil machinations of the US military. Thriller addict that I am, I thought for a while I was going to like this a lot better than the "Millenium Trilogy" it is supposed to rival, even if the online world element is very irritatingly handled, and the eponymous "abomination" is neither shocking or particularly relevant. Not quite: the last third or so of the book loses all
chiaroscuro
, and with it all illusion of depth, but still, a good fast read. I'll look out for the next episode.
The Girl In The Road
Monica Byrne. A travelogue road trip around India and Africa, in a day after tomorrow world where no we
didn't
get around to doing anything about global warming, but yes the technology
did
go on getting more and more marvellous. Don't be fooled by the cute
Rough Guide
details, and pay attention when our free and easy heroine casually tells you, around page two, that she is psychotic. Of course she's psychotic, we're all psychotic, we are brutally murdering our own, literally our own, flesh and blood. NB if you don't like magical realism, walk away now. An impressive debut, full of wonderful invention but perhaps not meeting the criteria for positive, corporate-compliant sf, in territory where older "Western" writers might fear to tread these days. Recommended
Nice that quite a few people took me up on the free Ann Halams offer this month. November's giveaway will be
Crying In The Dark
and
The Fear Man
, dates to be announced. Did I say that bringing out a POD book all on my own was a breeze? I was wrong about that, but luckily I have had friends to help me along.
The Grasshopper's Child
print edition is now making real progress, and I should soon have proof copies to send out. NB this means the current ebook will be going off line, but it will be back, same price, with the print version revisions.
And Finally
Usually I just delete spambot comments before they see the light of day. Poor things, that is their fate, unless and until their humans teach them how to read. But this one was too cute, so here it is, (somewhat redacted):
Author: underwear size chart calvin klein: In reply to Home By Christmas

It is a clever thought to be cautions with your money when you'll strive a new style of underwear.