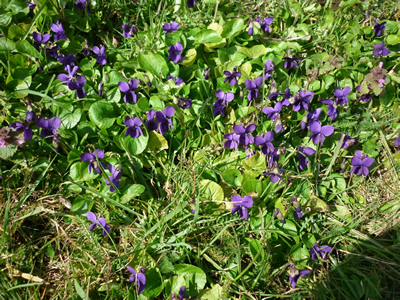 Friday 8th March, unbroken grey skies, the goldfinches flirting their yellow underwings, a hen blackbird and a fat woodpigeon mooching about, picking up crumbs, a slight persistent rain, that I can see in dimpled rings, steadily forming, one by one, on the surface of the dark fish pool. It still feels springlike out there, but apparently that's not going to last.
To Amnesty meeting last night, where
Kolbassia Haossou
of Survivors Speak Out talked to us on behalf of his network of torture survivors and
Freedom From Torture
(Was: The Medical Foundation For The Care Of Victims Of Torture, but it doesn't exactly roll off the tongue). I asked him what seemed to me the obvious question:
Does the therapy work? Are you free from torture now?
He said no. He said if there were a delete button for the brain, he'd be the first to use it, but there isn't. You learn to live with it, but the place where you were, the things that were done; it's always there, and a chance association can put you back there in a flash. When you've been tortured you can't trust another human being, you can't love anyone, least of all yourself; whenever someone approaches you, you are sure they mean to harm you. . . Speaking for
Freedom for Torture
, he said, is the way I tell myself they didn't win. They did not silence me.
We live in torture world, I thought. As long as torture itself is endemic (
which it is
), then we all live with it, and acceptance of torture is in everything we do, everything we accept. We have all lost our ability to trust, lost our belief in each other, lost the ability to do anything but keep our heads down and ask no questions. We live in fear, that's what's killing our humanity. What is the antidote to this poison? And I thought of that movie NO!, and the laughing, dancing, absurd campaign of defiance.
Whatever anyone says, whatever Bigelow would have you believe, whatever the CIA and the UK intelligence services. . . er, well, they'd just rather you didn't think about the subject, actually, but anyway, whatever anyone says, torture is not about extracting information, it's about instilling fear. It's about showing who is Master. In Chad, everybody knows what's going on, same as they did in Chile, and everybody (or nearly everybody) keeps quiet, looks the other way, tries not to breathe too loud, never raises their eyes. The next time, it could be you.
You
could be taken off to the torture camp. Or your dad, your mother, your sisters, your brothers. And what if they suffer because you spoke out? So we don't speak out.
But here in the UK, tainted but not actually in danger of our lives, here's some clictivism:The reconvened Arms Trade Treaty negotiations are due to begin on 18th March.
Control Arms
is asking you to join in a
Thunderclap
action.
Promoting
Drabblecast
is running a month of Women and Aliens stories, one of which will be an abridged version (very nice job, by Nickyt Drayden) of my "The Universe of Things", but don't let that put you off, starts next week, check it out.
& many thanks to Ant at SF Book Reviews for his review of
The Last Days Of Ranganar
(aka Divine Endurance, Flowerdust edition). I'm thrilled, never thought it would get a review.
Trending
Update on the Seven Dials Elm. It's still standing, still defended but still condemned. Will Brighton & Hove's "Green" Council dare to chop down
a tree that's been trending on twitter
? I hope not. I hope they find some way to climb down, and
the latest from the Argus
sounds positive, but who knows?
Btw, ENO Traviata: I don't think the eccentricities of the production added anything at all, and the chair and a curtain setting just looked bone-idle lazy. Bizarrely, however, the music was wonderful.
Corinne Winters
was just amazing, electrifying, musically and emotionally, (everybody else had been forbidden to act, but even so, she was ace.)
Looking Forward To
The comet, I mean
Pan-Starrs
But I bet we don't see it. Those comets, they're elusive creatures, the only one that's been any good in my life time was Hale-Bop (sp?) in 1997, which we saw when we were in Poland for Easter. That was a cracker! & what evil does the pair due to visit this year portend, I wonder. I suppose we've room for a few more.
Keynote picture is a cheat, it's the bed of sweet violets by the bus stop outside the Downs Hotel, at the Rottingdean crossroad, and meant to represent International Women's Day colours, but it's just a stand in. Our own violets are too shy.