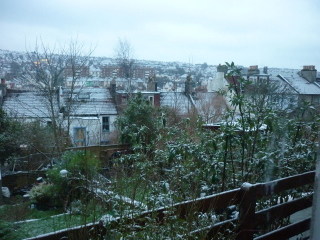 Monday 11th March, snow. A healthy dusting of white deposited overnight, but now it's really snowing. It's snowing quite hard. Have made several attempts to get my son (down for the weekend) out of bed. Gabriel, it's snowing, Gabriel, there's delays at Three Bridges,
Gabriel
... I think he's stirring now.
A conversation with my pension provider
Been meaning to make this call for a while...
The FriendsLife website "members area" is a waste of cyberspace, or was last time I looked, I've given up on it long ago. But that's okay, what I'm doing today is only fun if I talk to a human being.
I get through at once, no nested options. Points to FL. FriendsLife wants to know how she can help me.
G: well, it's a query about something in the latest Projected Benefits Illustration your firm sent me. The wording is puzzling. Could you put me through to someone who...
FL: (resigned tone) No, no, need. I can probably help. Just tell me what your query is.
G: Oh? Really? Well, okay... It's not about figures at all, it's this bit (reads aloud) "The pension is payable every month in advance for
at least five years or until you die
." It's that last bit. It just sounds odd. What does it mean "Until you die"? What happens if I don't? Is someone from FriendsLife going to come around and shoot me?
FL: (It is clear that she has fielded this query often, in varying witty forms, and is tired of it) Laughs lightly. No, no! The pension will go to your next of kin until the end of five years, even if you die. Otherwise, it goes on being paid for the rest of your life.
G: Oh, good. So, if I live to 3000, FriendsLife will go on paying my pension?
FL: yes, that's right.
G: And I don't have to do anything, except keep paying my premiums, and then collect my pension?
FL: That would be right.
G (in her head): So. Would you agree that FriendsLife is using that curious wording to avoid using the term
lifetime annuity
, in the transparent hope that unwary pension fund investors will believe they don't already have a lifetime annuity, and, convinced by the hardsell in the rest of your mailing, will
sell
the money they put into their pension fund
to you
, and
buy another product
, a totally unnecessary transaction from which the firm will cream £XXXX in commission and "administrative costs"???
My admirably good-tempered friend on the other end of the line has so clearly been teased to death by sarcastic pension customers that I don't bother teasing her any further, and we part friends.
But watch out!