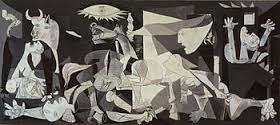 Sunday 16th June, blue skies after morning drizzle. Just back from the
Sewing Guernica Project
for half an hour in the Jubilee Library, a kind of ritual act of art as protest, as i understand it, the banner gets created in public, by women and men who haven't, most of them, done much sewing before (plus a core team of experts), and this will be going on all summer, in various venues. Me, I can sew, not so great at small talk, which is a handicap... The swifts haven't been around for a few days. I hope they come back.
So,
http://www.commondreams.org/headline/2013/06/14-2
the House of Representatives has voted to keep GITMO open and for the detention of prisoners never charged, and cleared of any wrong-doing, to continue forever.
Hard to get your head around the world we live in, is it not? Cannibal pie.
Sewing Guernica is at the Jubilee library next Sunday too, and at the Friends' Meeting House in Middle Street the week after, if you feel like dropping in. Materials provided! Mind you sign your needle in and out. Dangerous things, sewing needles...
Common Dreams
urgently needs more donations, btw, and it provides a vital service. If you feel you could give them some money (whether or not you're in the US), please do.