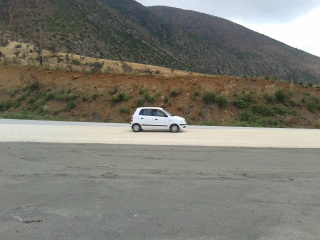 When I first planned this tour around the Roumeli, I imagined we'd use public transport: reliving the intimacy and the drama of our tour of Java and Sumatra in 1978. You
have to
get to know the people, and you
have to
speak the language, when you're stranded with a bunch of them at a houseless railway junction in black night, in the deepest, darkest Sumatran rainforest, and the scheduled bus doesn't turn up... (Don't try this today. The forest is gone, for one thing). But then I found out
what had happened to the KTEL timetables
, and then our beach apartment landlady told us there was no bus from our port to Loutsa. She probably had that wrong, but my nerve failed, due to internet dependence and old age. The tour became a road trip, and immediately, always a sucker for buried treasure stories, I wanted to get to Vergina, in far off Central Macedonia*, where in 1977
Manolis Andronikos
, found the untouched Macedonian Tombs: Greece's Tutankhamun.
So, we set out from Loutsa and took the Egnatia Ethniki, the big new (2009) national motorway that retraces the route of the Roman Egnatia Way, from the west coast at Igoumenitsa, slashing through swathe after swathe of impenetrable mountain country, right across to the Turkish border. From Loutsa to the Oracle at Dodoni, from Dodoni to rainy Ioannina, Ali Pasha's citadel on the lake; the nameless island on Lake Pamvotida, where we did not eat the sad tank-eels; the friendly Chevalier bar inside the citadel, and the Mythalogi, where we first met
tsipouro mezzes
. It wasn't pretty going. Roadworks, active and abandoned, sporadic and systemic, scar the green wetland coast from end to end. The Egnatia is flanked by pans of naked red earth and raw sawn-off ends of hillsides: stepped and netted for landscaping that never happened. An immemorial tapestry of stork-haunted villages, towns and countryside destroyed, but someone else's heartbreak, not mine this time. At least after Ioannina things became spectacular, if never elegant, as we tunneled through the Pindhos Mountains in cold driving rain.
A detour southwards from the first
kombos
after Metsova took us to Kalambaka, where the rock pinnacle
Meteora
monasteries are. About five hundred years before the Fall of Constantinople, a band of wild monastics formed the notion of replicating the then-trending Pillar Living style of the Syrian Desert in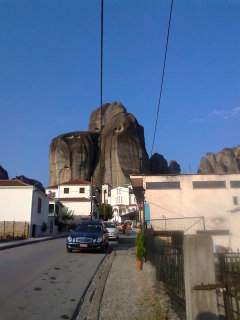 this extraordinary landscape. The pioneer was apparently St Athanasius, riding on the back of an eagle. The labyrinthine Orthodox lamaseries that followed were constructed and supplied by rope and tackle. In living (tourist) memory it was still quite an adventure to get access. Today, fierce and squalid isolation is no more. There are stairways. Custodians take your money, dispense natty monochrome pareos for decency if necessary, and conduct you to the dark, livid, painted sancturaries, every niche and corner teeming with inventive means of execution. The paintings at Ayiou Nikolau Anapafsa, work of a Cretan, a contemporary of El Greco are far and away the best. The tiny 9th century painted cathedral down in the town is worth the lot of them: unless you're just here for the thrill of peering off the edge of a sheer, 100+ metre drop, and imagining you might fall. Not many people stay.Coachloads upon coachloads of devout Russians, Bulgarians, Romanians, process up the precipitous single track road, pour off their buses, climb the stairs, obsessively venerate every icon in sight, pour back onto their buses and do the same at the next lamasery along. At 3 euros a pop, this operation must be a regular goldmine.
The pinnacles are really giant boulders, heavy-shouldered smooth sea monsters, standing in the air. They look their best from the village of Kastraki at their feet; in twilight, or in starlight. You can clamber over the lower ones, which we did; or go hiking around them, but it wouldn't be much fun in July.
Next day we were back on the Egnatia. In ways it was rather horrible, the great road so empty, the mountains and forests so desolate, the sidings so ugly, no services offering intriguing pitstops, nothing to do but eat distance; demolishing a journey of weeks in an afternoon. Zoom. If a Hyundai Atos can be said to zoom... The
Deer
warning signs turned into
Bear
warning signs, the forest dissolved into bleak parched upland, we had started to lose height: fantastically endless views of the Thracian plain opening up below. We made one halt to eat Ioannina bougatsa at a scruffy wooden pagoda by a roadside spring; a corner-boys' old leather car seat for extra seating. A small, motley-attired group appeared out of nowhere in this emptiness, looking slightly sinister (bet we did too), and reminding me of
Once Upon A Time In Anatolia
. But all they did was wash their fruit. As we came down off the mountain, approaching the unprepossessing ancient city of Veria, the Egnatia filled up at last: thundering frieght lorries from Central Asia and Russia, scary truckster driving, stinking fumes of hammered brakes. In the commercial sector we took a ring road. Crossed a glimmering great reservoir, set in green, that wasn't on the map, and suddenly we were in Vergina. A small town with a big coach park, baking in July heat: a few tavernas, a few empty empty guesthouses. It was the low season, Greece's aestivation. Vergina is a winter and spring resort. There's skiing not far away. Two and a half thousand years ago (give or take...) this was the site of the royal city of Macedon.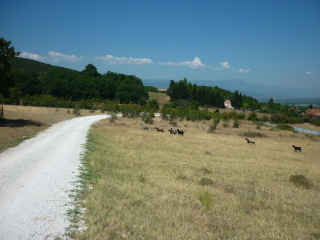 Aegae (goat town) was founded when the Macedonians were outsiders, no-accounts of history; dividing their second-rank favours between Athens and Sparta whichever way the battle turned, in the Peleponnesian War.
Philip II
,* (359 - 336 BCE), single-handedly changed all that. He spent his youth as a hostage in Thebes, the greatest military power in Greece at the time, had excellent training with the legendary
Theban Band
, and went home to build an army for his older brother the king. A few years later his brother was dead, the Macedonian army had been ripped to pieces by the Illyrians (western Balkan tribes), and the country was falling apart. Philip's first job was to secure his own throne, and then, by sheer prowess in the field, canny adoption of new military technology, and a remarkable series of polygamous marriage-alliances, he set about his project of World Domination. Nothing and nobody could stop him. In 338 BCE, when the Theban Band died to a man at the battle of Cheronea, way down south in the heart of the city-states, he completed his conquest of Greece. In 336 BCE, at forty six years old, he was in the process of invading Persia, and had consolidated his dreams of a pure-blood dynasty by marrying into the Macedonian nobility for a change. Then one Spring day, during the celebration of his daughter's wedding, he was attacked as he entered the theatre by a young nobleman called Pausanias, a member of his bodyguard and possibly one of his lovers, and stabbed to death.
Why did Pausanius do it? Why so publicly? We'll never know. He was put to death instantly, by close friends ofthe king's son Alexander, who, although estranged from his royal father for a while after that dynastic marriage, was standing right beside Philip when the assassin struck.
*Definitely
not
to be confused with the Republic of Macedonia
**NB,
caveat emptor
, this account is one of many, and differs in detail from others eg wikipedia
Wednesday 11th September, cooler, broken sunshine. US humanitarian missile strike on Syria holding off for the moment thank God; villagers (some of them) expressing solidarity with the anti-frackers fighting eviction from Balcombe, and the "Transparency of Lobbying Bill" under determined attack. We have bottled plums, started a litre of plum whisky (like sloe gin, only sweeter), and restored some order to the late summer debris of our garden. Sadly, there are fewer frogs at the bottom of it than there were before the rain last friday. They lost their heads and went frolicking about, and paid the price. I found Grey Frog lying in a border with one forelimb torn off, on Saturday morning. The predator/prey relationship isn't healthy, there are far too many cats: about as healthy as a fox in a chickenhouse for my amphibians As always, I just have to hope one or two mating pairs make it through.