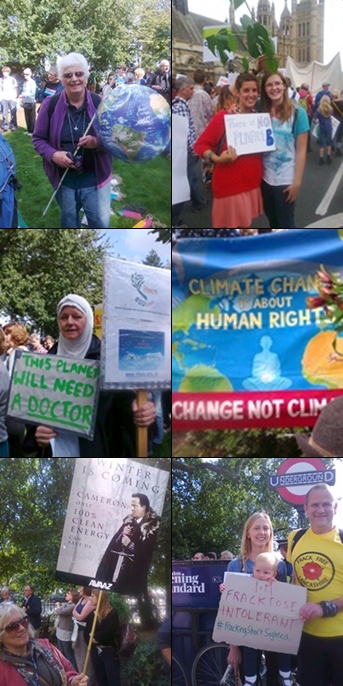 Monday 22nd September, yet another relentlessly sunny day. Remarkable turn out on the Climate March in London yesterday, estimated 40,000; (who's estimate, I don't know. If it was the police that means 80k in real numbers, good grief what must the streets of NYC (est 400,000) have been like? Maybe they do the estimating protesters thing differently over there. Much more about the event I can't really tell you: having obediently gathered in Victoria Embankment Gardens for the pre-show, said a prayer written by Desmond Tutu and tied a label on a tulip tree. We all then spent about an hour and a half kettled by Greenpeace and their polar bear, and the sheer unexpected weight of numbers. By the time my contingent reached Westminster, the rally done and gone, no Vivienne Westwood, no giraffes, no zebras, nothing. Ah, well. Splendid array of placards and banners, anyway. Confess a weakness for the avaaz one with David Cameron awful fetching in a sort of
Game of Thrones*
fur cloak and broadsword ensemble; also loved the brave philodendron accompanying the
There Is No Planet B
team, and the very cute baby from Lancashire, who was Fracktose Intolerant. Clean Energy for London now! Why the hell not? It was an outing. It was fun. Effective? Don't ask me. But if the battle to save the future is lost, rather than being another of those d
amned near run things
we specialise in, it won't be because I was too selfish, cynical, or stupid to stand up and be counted.

Progress Report on The Grasshopper's Child POD

I finished the cover with Barry over the weekend, and now the grasshopper is
green
, an important point, for which thank you Gabriel (actually there are five of them all told, but you can only see one here). First proof copy has shipped. The only bad news is that this trade paperback type book will be as expensive for the buyer as mainstream tpbk, whereas I can make my ebooks very cheap. POD has no economy of scale. I wonder what it's going to look like in real life? They warn you it can take several tries to get it just right. I must say, this is far more fun than getting published old style. If you like playing games, that is.
*smart dress and repulsive ultra violence (white collar kind) a speciality!