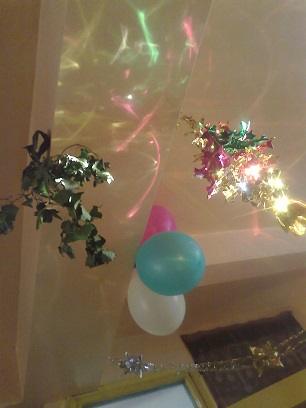 I think i've never known such a dark festive season, but one early morning, I think it was the 6th January, the sun came out, sending sickles of coloured light-shadow from the Chinese Lantern across the ceiling (the lantern which traditionally hangs across the way from the mistletoe bough; glimpsed to the left of the picture); and I made them dance to Ginger's delight, by giving the lantern a poke.
But did not make a video.
And so farewell to a year without flowers . . . I don't know why, but I didn't bring in
any
flowers this last year, not after the pine sprigs on New Year's Day. It wasn't planned, but it began to seem like a statement and then I thought: might as well make it one. This year I plan to fight the gloom; if the flowers will let me. No sign of an accelerated Spring here as yet. Snowdrops lagging, native daffodils and pussy willow about where I'd expect them to be, in a normally mild winter & Roger Hall, my only surviving camellia, has just one bud showing colour.
New moon tonight, and the next new moon we'll be moving on to a Year of the Monkey.
_________________________
Festive Reading
Forlorn Sunset
Michael Sadleir
I read
Fanny By Gaslight
years ago, picked it up at a Jumble Sale: Victoriana docu-fiction about (f) prostitution, written in the forties, when Central London was still as Dickens left it; in parts. The far less famous
Forlorn Sunset
was a charity shop find (I'm a great fan of the British Heart Foundation's bookshelves) it's a darker and more forthright version of the same story, a sensual, spirited little girl, "ruined" as the saying goes, and ruined is absolutely right, by skilled child-prostitute groomers; and what becomes of her. Nothing much good, you can bet. Once a forlorn curiosity tale, I suppose. Very contemporary feel, nowadays, P.S Michel Faber (
The Crimson Petal and the White
) may also be a "Sadlier" fan.
The Sculptor's Daughter.
Tove Jansson, tr Kinglsey Hart, intro by Ali Smith.
Christmas present. Brilliant. I absolutely loved it.
The Shepherd's Life
James Rebanks
A memoir. By the dirt beneath our nails, we horny-handed Herdwick Sheep farmers are better men! In fact we're the only REAL men! The rest of you, especially if you visit Cumbria with a volume of Wainright in your turquoise cagoule pocket, are not fit to wipe our proud bottoms! Okay, well, Rebanks does comes over as a callow, arrogant s*d & his righteous contempt for, well, everyone, really, wears a bit thin, esp when you take in his actual career arc (failed at secondary school; belatedly realised he'd like some qualifications, stormed Oxford, currently combines small traditional farm with a globe-trotting career in the international heritage site business). But, on the other hand, in his favour he's a W H Hudson fan (the title is a tip of the hat to
A Shepherd's Life
); & it's a delightful book about sheep, & hill-farming & he's a fine nature writer.
On the
other
other hand, I bet his wife sometimes wakes up in the night and finds herself staring at the ceiling, musing on her choices. MY GOD,
why
did I go and marry Ted Hughes? What was I
thinking
!
Festive Watching
The Tale Of Princess Kaguya
Isao Takahata (Christmas present, of course) Very, very pretty; a bit insubstantial.
The World At War
Jeremy Isaacs et al
Before Christmas, the broad top shelves of the Dead Media Wall held stacks of video tapes, some of them dating back to the Seventies. They suffered their last winnowing in December, and two bin-liners-full made their melancholy journey to Sheepcote (tip) just yesterday. The favoured, remnant tapes, including Vanya on 42nd Street, and Peter Brook's Mahabharata, are now taking their last slipping and sliding trip through the way back machine. (
Tampopo
, for some reason, has survived in mint condition). We started watching
The World At War
again on tape, the very same set I used when I was researching
White Queen
. Had to give up before we even got to Stalingrad, it was too stop and start. We're watching on Youtube now. Harrowing. Unsurpassed, Unsurpassable; like (as I said in those
White Queen
days) knowing exactly what Achilles
really
said to Agamemnon about the
sacrifice at Aulis
. We watched the Chindits, last night.
Good grief. I see (on Amazon) people are paying actual money for the original tapes. Well, get in touch if you're interested. But hurry . . . Sheepcote is waiting.
Fortitude
(Sky Atlantic!)
Aka
"Twin Tusks"
Preposterous. Watchable. No zombies yet, but I can't help noticing that Christopher Eccleston's* corpse remains curiously intact, in the cold storage drawer, as for some reason it's impossible to chopper-in (no pun intended!) a pathologist, or ship him over to a lab on the mainland. Although, deep in the depths of this Arctic winter, the sea all around is very modishly unfrozen. And the only doctor on this tiny island with the massive police force has, of course, been eviscerated with a table fork by her daughter, the rather tactless fat girl weird Marcus with the food fetish was trying to kill with chicken soup.
*Yes, I
can
remember the name of the fictional character. But I don't see why I should.
Next time, Christmas Truce over: the bad news . . .