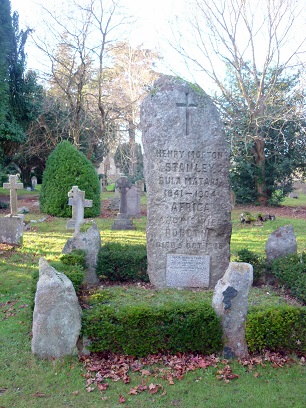 Saturday 16th January, a clear bright winter's day for the delayed Jones, Gwilliam and Sinclair-Jones Seasonal Outing: an expedition to the wilds of Surrey; daring Ministry of Defence scary yellow notices, and the proximity of the scary Pirbright Institute, on tracks potentially littered with things that would blow up in our faces, in search of that "well-travelled Victorian journalist"
Henry Morton Stanley
. Especially thrilling to me when we found him (or his memorial, in
Pirbright
churchyard) since I hadn't spotted the dry wit of our guide to byways of the Kent and Surrey borders, and had no idea we were looking for the
Dr Livingstone I presume
Stanley. So here he is, presented in triumph by the successful explorers, except by the way Mr Guidebook, that's not an obelisk, that's a menhir. What a harsh and eventful life! How fitting he's buried with the UK's National Rifle Association alumni lying all around him! Shame about the vicious brutality; well attested, and judged out of order even by the "African Explorer Hardnut Hero" standards of the day.
Bula Matari
, the Congolese called him, breaker of rocks, and they were the rocks that got broken.
My Fracking Round-up
. . . There's so much to say; and so little. What's the use in asking you to write letters, when the planning officers no longer have their power to say no? What's the point in going over the arguments? Well, no point at all, but I believe I will mention how disgusted I was at Amber Rudd's performance on South East Today last week. She says fracked shale gas start-ups will give us control over the price of our fuel; will create new jobs; will give us fuel security. She knows (good grief, she's the
Energy Secretary
) that these are outright untruths. But there it is. Just lie, that's our rulers' motto* Fool most of the people, most of the time, and you're home clear, so why worry? The blithe and rugged determination of this government: still dead set on its
lets get fracking
drive, what can I call that but obvious, blatant corruption and cronyism? No other explanation stands up. Given the state of the industry (
BHP Hilton writes down $6billion of shale assets
)
Given the climate-change floods . . . "We live in a warmed world.
All
our weather is affected by climate change" (
New Scientist
)
Given inconveniences like the defection of
even the frackers themselves
.
Not to mention the promises in Paris. No, we won't mention the Paris deal*.
Many thanks to Caroline Lucas, and Chris Matheson, for questions asked in Parliament this week
&Many thanks (I suppose) to
Kevin Hollinrake MP
, Ryedale, for his tasteful resignation.
More details on
drill or drop
. Me, I'm taking myself to the public meeting about the
Horse Hill well tests
, in
Oxted on February 6th
. See you there, if you come from round here.

Watching
Prime Minister's Question Time,
On the tv in my gym last week. Harriet Harman maliciously needling Our Dave, over that targeted drone strike. Could the Prime Minister possibly provide us with his protocols, something in writing; before next time? With the proper security clearances, of course. So parliament knows when this long distance, without trial or charge, execution thing is legal, and when it isn't? Nope, he couldn't. Okay, next: could he at least
clarify
just a little. What would be crossing a line? If there was, say, a small child involved, out there in Syria? Would the Prime Minister then order the small child's head to be blown off? No use, he just can't get his head around it at all. The question is too complicated, too long and bewildering, sorry (mops brow, mugs helpless overload): he's getting hopelessly confused. But he's clear on one point.
I reserve the right
, says Our Dave,
to act without consulting parliament
.
Hm. There's a word for people like that, and it isn't Prime Minister.
Anyway, how very Churchillian. But all I'm thinking is, how dearly all leaders
love
a war. & why wouldn't they, because that's all they're really good for, isn't it?
Dux bellorum
. Everything else is too complicated, conflicting, confusing: impossible for one man to handle. For running a country, decently, in peacetime, you need a
government
. That's why we haven't got one.
Those Romans, they knew what they were doing; for a while.
The World At War
We're getting there. We're through D-day (What the hell went wrong on Omaha? Just awful. I know a story about that, but the uneven distribution of
Hobart's Funnies
didn't get a mention from Olivier. Episode 18, Holland in the Occupation last night. Possibly the grimmest yet. The Greater Germany; a collaboration path that really did not work out well. The moment when you realise what's been done to you, what they've turned you into, and already there's no way back . . . One man, telling the story of how he encountered a chained-up consignment of Jews, on a railway platform in Amsterdam. This was 1944, he knew they were on their way to be gassed. It was early morning, he was alone with the prisoners and their guards. He's crying, on the tv screen. "If I'd had my pistol, I could have shot three of the guards," he says. "But what about the fourth? And if I got all four, then what? They are chained, I'm alone, what can I do next?" He went away . . . & joined the resistance, and blew up stuff with plastic explosive provided by US air drops, which made him feel better. But the gas chambers were already lit, and they kept on burning, and the tears of shame and pity are still ready to fall. You can't undo what you've let happen. You can never make it better.
Salutory. Horribly up to date. Right on the money
Reading

When The Floods Came
, Clare Morrall. Haven't liked her last two books much. But I think she's back on form


War and Peace
Leo Tolstoy. (Just become my new classic read, bumping the King James Bible on the grounds that getting the Ring to the Fire took me no time at all) Hey, this is a soap opera. This is very nice, but it's
purely
a soap opera. No, really.
Oh, it
is
a soap opera! Well, I'm not watching it. That would be unpatriotic, when I don't watch Eastenders. The print version will do me fine.
Approaching With Caution
Microsoft 10. The screams of rage and groans of agony from downstairs have ceased, Peter is now convinced he was one of the unlucky few, or no, in fact it was all his own fault that M10 destroyed his profile those times, & wiped his machine once, & all that. But he has a funny glazed look in his eye now, when he tells me everything is fine, and there's no need to worry,
you can turn off all the spyware . . .
No, actually. I have an update. Not approaching at all.