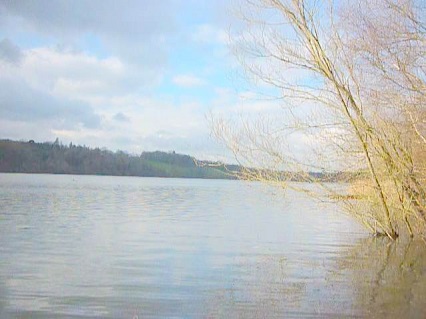 Late with the final ceremony of the Christmas season this year, we took the last 2 slices of cake (very good cake) to Balcombe and
Ardingly
on the 5th of February. A chilly day, promising snow (of which we saw only a few vagrant dots of white), but none of the hard slabs of puddle ice of last year, and no flocks of fieldfares. The water naked of kayaking classes and the like, was empty of waterfowl, as usual, too; except for the grebe (there's always one grebe) two buzzards mewing, one or two wild ducks, a pair of tufted ducks . . . and far beyond the half-drowned hide, where the road crosses the water, cormorants & coots. We saw plenty of wild ducks* on this walk, some of them feeding on a heap of grain, I am afraid not provided for altruistic reasons. (
We could eat a duck!
, we thought, simultaneously. I tell you this so you know, and won't go on reading my blog under false pretences.) But the reservoir was brimming, for a change, and looking lovely. The light was beautiful, and as we made our way, in the weather of earliest spring, we saw plenty of other bird life, including a magnificent heron, and once
marsh tits
which we have never seen before, feeding on something invisible, among the cones of an alder tree. Not shy of humans, as it says in the RSPB guide.
It's been (it was) a busy year, full of all kinds of trouble, great souls passing on, and painful losses, including for me personally; and many interruptions that pushed me hard when it came to handing in my Joanna Russ study (which will be with the editors now for quite a while). I have fond memories of recording for
The Frankenstein Myth
in a tiny East End Studio (not a stone's throw from where
Geoffrey Chaucer
once lived, rent free, as a rather dodgy wool trade official) . . . but whether anything of my contribution will make it to the finished product, I don't know. I also met Emma Critchley, slipstream media artist, and suggest you take a look:
http://www.emmacritchley.com/
& of course there was
https://vector-bsfa.com/2017/12/03/organic-systems-environments-bodies-and-cultures-in-science-fiction/
. I absolutely loved the art work for this event, and found the idea of hollowing out Canvey Island as a sort of dry-docked GSV alluring (especially if there turned out to be a volcano under it). But I had little to contribute besides facing the audience while
grinning like a loon
smiling, although apparently I had one startling and novel suggestion:
"
Jones evolved the idea that utopia is necessarily a picture of what we lack, not a proposition of what is finally good
"
Dear me. What DO they teach them on these sf courses?
On the plus side, no sign of Biedermeier withdrawal and cocooning breaking out. Everyone's still mad as hell, and not going to take it any more. But what aren't
we
going to take?
Unfortunately, there is no "we"
The one thing we're absolutely sure about is that we're
not
a united kingdom.
Although cute wildlife tv and an an end to plastic are contenders. . . No more plastic, says the PM, and oh, if she could just wave her lily white hand, for certain the plastic would go! But even that lily wave would be rather too decided.
*originally only the drake was a "mallard". To the Victorians these were just "wild ducks" (Birds Britannica)