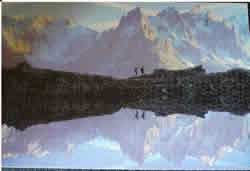 Tuesday 23rd March, low cloud and mist, cool. How quickly Spring catches up. Everything's changed since ten days ago. Such an epic winter it's been, I'm sorry to see it go, but I can never resist the spring.
Hazel catkins have expanded, primroses burst into flower on the banks,
one
of my native daffodils has opened, buds popping open on the hawthorn, visible on the little blackthorn where there were only dead-looking twigs. Frog action, modest but healthy, in the fishpool, clumps of spawn moved into the "wildlife pool" (it has yet to catch on with the wildlife, tho' a couple of frogs have been seen visiting). On Sunday Peter and I walked the Jugg's Road to Lewes from Woodingdean (Jugg's Road: the fishwives of Brighthelmstone carried jugs full of fresh fish to the nearest town this way, long time ago). It's a walk for skies and landscape curves, not detail, so much of the downs under the plough, price of wheat must have gone up again I guess. Very beautiful under that powdery blue sky of early Spring, and uncountable larks, shouting and shouting. We inspected the dewponds on Kingston Hill for amphibs, saw nothing but some charming little snails, tiny glittering beetles scooting around in the submerged grasses, tiny dots of smaller animals. Hey, since we doped our "wildlife pool" with genuine pond water (from the dipping spot at the Heart of Reeds) maybe we'll get some of these.
The
Aiguilles Rouges
are featured because that's a detail from the jigsaw that saw me through the winter (as some of you may know, I work on jigsaws while thinking out what to do about chapter seven, and is that character superfluous etc; yes, just like Ax Preston). I usually favour art-jigsaws, I thought it was because of my superior aesthetics, I now concede it's because landscape can be just
impossibly hard
, making nonsense of my writer's meditation technique. Still, I won't forget them, and they're on a must see list now. Got to walk that black bridge.
Reading/watching. The Brian Cox series on the Solar System, and liking it very much.
Also just finished the
Dragon Tattoo
books. Excellent best-seller material, wads and wads of simple journalistic prose hung on the hook of a textbook Grimm fairytale. Have to say, the second one was the weakest, possibly because the "diversion", an exposé of sex-trafficking (so well-done in the first, when it was an exposé of corrupt financier's empire), completely failed to deliver. Curious about the titles, I found a page discussing the phenomenon: where I learned that the translator's name is a pseudonym, because the real person, translator with a major reputation, had his name taken off the books. . . Also learned that the title "Men Who Hate Women" was rejected for the English version (though not for any other European market) "because people would think it was Non-Fiction, and be offended".
Isn't
that interesting!
Have to say #2: not to speak ill of the dead and all, and I do know how it probably happens and why (It's all in Clover,
Men, Women and Chainsaws
) But for a bloke who is so outraged about men hating women, Stieg Larsson has to have spent a great deal of time
thinking
about young, almost pre-pubertal women suffering aggravated rape, young women getting murdered by sexual torture, women of all varieties getting persecuted and insulted in all kinds of ways. And so it goes, that's what fairytales are always about, after all.
Have to say #3. The Handsome Prince goes missing. . . It's true what you've heard about the movie. Salander is played by someone who looks a lot less like a starved and alienated stray kitten than she should, but our hero is played by someone who is going to puzzle audiences very much indeed, as the second and third episodes appear, and all the fabulously beautiful intellectual bodybuilding ladies crawl at his feet, begging to have his babies.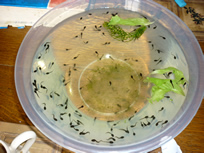 Elizabeth, how kind of you to ask after the tadpoles. Here they are, getting on fine.