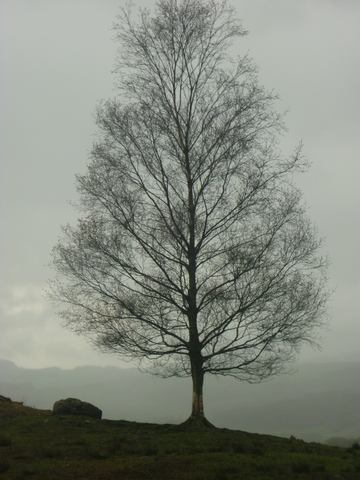 Wednesday 24th October. Mist shrouded warmth for the last few days, but this afternoon the mist is clearing to blue skies, and it's feeling cooler. A waxing gibbous moon, glowing in the misty sky followed us last night, as we returned from moving Gabriel's stuff to his new house, and as we crawled through the carnage that was beautiful Handcross Hill. A
Harold and his Purple Crayon moon
. Today I finally put the third coat of Cardinal Red on our front path. About half an hour later someone ignored the WET PAINT sign on the latched gate, and tromped up to deliver a marketing postcard for a bike shop. So I have climbed out along the wall, in danger of falling through the railings, and tied up the latch with string. I suppose I'll have to add expunging the footprints to my touching up: I'd only make things worse now.
It's official: the BBC* is able to report that we've had
very weird weather
this year. Our intense rainfall however, has nothing to do with global warming, and you can tell it doesn't because we had floods in 2007 too. . . Although, oddly enough, as the report cautiously concedes, if there
were
such a thing as global warming "that would lead to warmer air being able to carry more moisture to fall as rain". Last night I actually heard a tv weatherman say the temperatures this week have been "much higher than you'd expect for the time of year": I nearly fainted with relief. Why isn't climate change an issue in this US Presidential Election? What's different, is it because the effects are being felt, and the stakes are much higher now. When will the silence be broken? I suppose the fact that
these questions are being asked in our UK mainstream media
; that shocking figures on the
financial cost
(for god's sake!), of climate change are being bandied about, is some indication of a coming shift. Like those puzzling few weeks when we know a Minister is going to resign, but he keeps hanging on by his finger-ends...
The silence can't be broken. If it was broken, then our rulers (David Cameron, can you imagine? The President of the USA, is it likely?) would have to say This is very serious, we have to STOP FRACKING. STOP THE TAR SANDS PIPELINE, NO THERE WILL BE NO THIRD RUNWAY and NO, THERE WILL BE NO NEW AIRPORT. WE MUST SWITCH TO RENEWABLES WITH ALL SPEED, AND ADAPT PERMANENTLY TO USING LESS ENERGY. FORGET THE MYTH OF ETERNAL ECONOMIC GROWTH, ECONOMIC
GROWTH
IS THE ENEMY NOW. WHAT WE NEED IS PROSPERITY WITHOUT GROWTH.
It's not going to happen, is it? Just ask yourself, what would it take to get Jeremy Clarkson to back down and change his views, and you see that the idea of the awakening of the UK (barring violent rock fantasy) is simply absurd. So we'll muddle on the way we are, you and me: feeling a little bit uneasy, trying to be a little bit green, and submitting to the will of the aggressive and the greedy, although we know it doesn't make sense. Ah, well. Good job the Bay of Pigs/Cuban Missile crisis didn't have a financial backlash element eh? If there'd been MONEY to be made by engaging in full-on global thermonuclear war, Mr Krushchev and Mr Kennedy would never have backed down, would they?
When I wrote about climate change in Bold As Love (set 2015-2020 or so), I had no idea things would or could move this fast. I gave them a little mild flooding and a run of harsh winters in the UK, I mentioned crop failures, rocketing food prices, as a cause of discontent in Europe, and a refugee crisis as people from the South got on the move, fleeing from floods, desertification, etc. I thought I was being fairly extreme, but I didn't even consider, eg, the Arctic meltdown we've seen this year.
Now I don't know what to think. I feel more alienated than I did when Margaret Thatcher was in power, and much more
bewildered
. I'm looking straight at this elephant (actually, it's more of a
Rhinoceros
, cf Eugene Ionesco's play about Nazi infiltration of French society**), I'm looking around me, and thinking, well, there's so many of them. They're so successful, so loveable and jolly and relaxed and sure of themselves it has to be me, I must be hallucinating...
On a slightly less frantic note, I'm glad to see the badger cull has been "delayed". The government issues licences for 70% of the population of a protected wild animal to be shot by bounty hunters? When all the science says this ploy will be useless? It's mysterious, it beggars belief, really. A glance at the distribution map (badgers vs bovine TB in the UK) makes it obvious that badgers are not even the problem.
The keynote picture of the lonely leafless birch is one I've used before, but it seemed appropriate.
*I'm a devoted student of the BBC News. Always interested to know what we're
supposed
to think
**I couldn't find a decent reference for
Rhinoceros
online. But NB part of Ionesco's Theatre of the Absurd's point is that French society had Nazism in it
naturally.

. Turning into a rhinoceros was no struggle, it made people feel better about themselves. The struggle (to become known as the resistance) was to stay human.