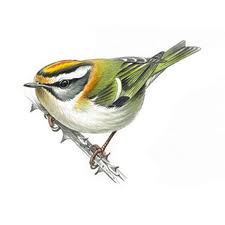 Tuesday 26th February, cold and grey, a raw, damp cold; the faint white disc of the sun appearing in glimpses where the cloud has worn into holes. A rich time for birds in the gardens, in variety: the blackbirds, starlings goldfinches,bluetits and the robins as always, but last week, when the sun came out, I saw the firecrests picking through the branches of last years buddleia for insects, on Sunday there was a greenfinch in the sycamore, and yesterday, the wrens and a pair of blackcaps (separately), and a young thrush on Val and Nicky's new raised bed, picking up little lumps of chalk, flinging them around and smacking them down, for all the world as if she had heard of these things called
snails
that live in rocks and are tasty, and she was just having a go... Not so good for numbers, there used to be a flock of greenfinches frequenting that sycamore, until greenfinches got that disease, and a flock of goldfinches came after them, now I never see more than five birds. Anyway, nice to see the firecrests, they are
very
pretty, and very confiding, apparently: not fearful of humans.
Finished a draft of Old Venus yesterday, still got to review it and fire it off. Wow what a time that took, and how much intriguing internet "scholarship" I pursued. With the consequence that I had to feature
Venus as the evening star
, although other alignments might, on the face of it, have made more sense. Dawn is not a time for lovers. It's pretty but too cold, and speaks of partings.
But it's okay. The orbits are so complicated, you can explain anything.
Watching
Or having watched, a surprisingly large sample of Oscar hopefuls; whereas years ago, an Oscar nomination or even rumour of same was a surefire indication that I hadn't seen the picture and didn't want to. Not sure what that implies. Anyway, besides admiring
Amour f
rom a polite distance, and absolutely loving
A Royal Affair
, I strongly reccommend
NO
. I loved this movie, so tough, so brave and cheerful, a real breath of fresh air, also loved the
ars gratia artis,
period production values. It really cheered me up, and maybe its not quite the ensemble piece it could have been but Gail Garcia Bernal is terrific. Go and see it! You'll never pronounce Pinochet the same way again.
Also
The Painted Veil
, one of my recorded-off-the-tv-guide movies, an unexpected pleasure, fine acting, shot in China and very beautiful to look at with a haunting score. Must now read some Somerset Maugham, eg
The Moon And Sixpence
, which Gabriel bought from the pop-up Christmas tree shop and has left here. Though I suspect the sensibility will be different.
Schadenfreude watch
Very high Schadenfreude count going on at the moment. The Pope, the Cardinal, the Lib-Dems; the
Chancellor of the Exchequer
(I love it that he's writing exclusively for The Sun);
the interest rate
. Very sad thing about this schadenfreude thing though: the very people you most deeply enjoy seeing take a p**tfall, are often taking you down with them. Ever noticed that?
Fearing:
The
"Justice and Security" Bill
(Secret Courts) They're going to carry on with this.
The Draft Communications Data Bill (government oversight of internet and email). Looks like this one is going to happen too, I'm afraid. Very mildly diluted by our protests.
And if you live in the UK and you want to preserve at least what's left of the NHS, please, please
get your MP
to sign this
Early Day Motion
before 1st April
I can barely see the keys, so Cavafy feature another time.