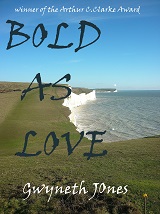 Friday 31st January, midday, grey and blustery; feeling slightly colder. Incessant rain continues, it's like Noe's Flood, are we up to forty days yet? Although it isn't actually raining outside my window at the moment. I seem to have spent most of this week preparing
Bold As Love
(Episode One) for Smashwords. Coming back to this story, I remember being told (thirteen years ago now,) how
silly
, how utterly unbelievable, it was to have rockstars getting involved in politics.
Why not?
I remember thinking; and saying. Artists get political, they take posts in government, ever heard of
Vaclav Havel?
But in hindsight, looking back, here on the eve of Bold As Love's Year of Dissolution (2015), with the army getting drafted into flooded Somerset (to the derision of the natives), and
Michael Eavis
, the patriarch of Glastonbury Festival, spearheading demands for drastic action** . . . I recollect that I really didn't make it up about rockstars gettng enlisted by the politicians, not at all. I'd seen the exact thing happen, in the Eighties (
Red Wedge
) and in the nineties (the even more hapless
Cool Brittania
).
That
wasn't my "
what if?"
It was the the other thing, the other half of the equation. I'd seen successive waves of street-fighting civil unrest sweep the UK through the eighties and the nineties. Thatcher vs The Miners, the Poll Tax riots; pitched battles between hippy Travellers and police; between anti-road protestors and police* I'd seen the
Green Party
pop up, like a political vehicle for all this dissent, and I imagined,
what if
this was the new politics? The suits vs the protectors, and the protectors getting frightening, looking dangerous, with this mayhem-causing barmy army at their back?
That's what didn't happen. The barmy army did not get organised, the gentle people remained gentle, and still are, by and large, to this day. It was the UK State that got organised, and weaponised, and (arguably) turned into a bit of a scary monster. Please consider signing the petitions below.
https://you.38degrees.org.uk/petitions/deny-use-of-water-canons-by-police-in-the-uk
http://www.change.org/en-GB/petitions/david-cameron-uk-government-save-legal-aid-to-protect-access-to-justice-for-all?share_id=voaBenrFnF&utm_campaign=signature_receipt&utm_medium=email&utm_source=share_petition
My Fracking Roundup
Mixed messages from Cuadrilla, who are now
applying to test for oil flow at Balcombe
. Mr Egan vows "we do not intend to hydraulically fracture the exploration well at Lower Stumble now or in the future". Good of him.
Nobody
fracks an exploration well. It wouldn't work. You drill a new hole. This is the kind of announcement that the informed greet with derision, but it matters little, as the intention is to fool uninformed public opinion.
If you feel you can make an informed case against the "flow test" proposal
only
, object to the new application here:
http://buildings.westsussex.gov.uk/ePlanningOPS/loadFullDetails.do?aplId=1634
Meanwhile
there seems to be a genuine delay in Lancashire
See also
The Daily Express
On the other hand, among the
"red tape" issues
Cameron plans to tackle, to protect strugging small businesses (like fracking exploration companies!), from over-the-top EU regulation, is the matter of special oversight for fracking, owing to exactly such issues as large volumes of Produced Radioactive Water. (I happen to know this, because I signed up for the 10 Downing St bulletin, and read the pamphlet).
Also (you'll recall)
preparing the ground
for removing that pesky thing where you have to apply for a property or landowner's permission, before drilling underneath them.
Meanwhile,
BP is withdrawing from the Arctic
.
Pour mieux sauter?
Or have they decided to go all renewable?
Congratulate them here
:
Trials of Balcombe protectors continue in Brighton (Caroline Lucas MP will be up before the beak in March).
Read all about it here
And
Greenpeace's no fracking petition
has suddenly taken off. Definitely worth signing now.
Department of I Wish I'd Said That

I don't think I say often enough how much I appreciate
New Scientist
, even though I keep grinding my teeth over lifestyle, health and medicine articles artlessly citing "Americans" or "the American public" as their go-to basis. NS was never so shockingly insular in tone when it was a British global overview magazine for the sciences. Many thanks to Rick Bradford of Gloucestershire (I wonder how the go-to readership
pronounces
that word), for his
Haunting Thought
(4th Jan 2014).
"
Physicists know that matter isn't the lumpen stuff we usually take it for. The closer you look at matter the more it dissolves before your eyes . . . So people shouldn't worry that there is no ghost in the machine. The truth is quite the opposite. There is no machine. It's ghost all the way down
."
You can maybe find the whole letter online, but I've forgotten my password.
Ha! Information space! The Zen Self project lives! One of these days, somebody's going to get interested in cracking that mind/matter barrier, and then I'll be well pleased. If also spooked.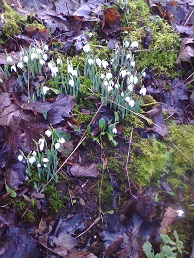 Last Sunday, in an interval of sunshine, we went walking in King Death's Garden, full of new birdsong (and a sizeable flock of goldfinches, a few long-tailed tits; not exactly singing, more cheeping) which is where this snowdrops picture comes from. Visiting the past, finding it hadn't waited for us, in a Proustian mood of learning that the places we love, the trees, bushes, significant gravestones,
are alas as fugitive as the years
, and promising ourselves we'd come back more often, Keynote image of the White Cliffs (why mess about, when you have the obvious on your doorstep?) is of course the proposed new Bold As Love cover. Coming soon, should I ever beat the Smashwords pointless challenge.
And normal service has been resumed. It's raining horribly now. I'll be back next year.
*hence the heaps of references to car-use as a flashpoint, in Bold As Love I; that's how it was, back in the day.
**mechanical river dredging, btw, which Eavis has been calling for,
has its drawbacks
. Definitely not the barmy option.